Escape to Portugal and join us for a life-changing 5-night wellness meditation retreat.
Our retreat is designed to help you find your inner brave, increase your self-love and confidence, and set goals for a fulfilling life. You'll enjoy daily meditation and yoga, workshops and a breath work session with an expert facilitators, journaling and confidence workshops, a surf lesson and a day trip to experience the beauty of Portugal, and challenging and vulnerable discussions with the group. We'll also provide ample free time to relax and reflect. Join us and discover the power of self-love, meditation, yoga and goal setting.
It's Time To Learn To Be Brave
With workshops, meditation, yoga and group support, you've found a safe place to dig deep and nurture your inner self.
Are you feeling stuck in a rut and looking for a change?
Attending Brave Retreats could be the perfect opportunity to shake things up and make a positive change in your life. Our retreat is designed to help you step outside your comfort zone, connect with yourself and others, and explore new ways of thinking and being. By attending, you'll be taking an important step towards creating a happier, more fulfilling life.
Are you craving deeper connections with like-minded women?
At Brave Retreats, you'll be surrounded by a supportive community of women who are all committed to personal growth and transformation. This means you'll have the opportunity to connect deeply with others, share your experiences and challenges, and build meaningful relationships that can last a lifetime.
Do you want to learn how to access your intuition and tap into your inner wisdom?
One of the key goals of Brave Retreats is to help you connect with your inner self and learn how to access your intuition. Our experienced facilitators will guide you through various practices and exercises designed to help you tap into your inner wisdom, so you can make better decisions, find greater clarity, and live a more purposeful life.
Are you ready to break free from negative patterns and limiting beliefs?
Attending Brave Retreats can help you break free from negative patterns and limiting beliefs that may be holding you back. Our workshops on confidence-building, journaling, and vulnerability will give you the tools and strategies you need to overcome these obstacles and create a more positive, empowering mindset. Plus, the supportive and nurturing environment at the retreat will give you the space and encouragement you need to take risks and push yourself outside your comfort zone.
INTRODUCING...
5-NIGHT PORTUGAL BRAVE RETREAT
JUNE 4TH - JUNE 9TH
WHAT'S INCLUDED?
5 Nights Shared Accommodation
Daily Yoga & Meditation Practice
Breakfast, Lunch and Dinner
Workshops with Sinead & Guest Speakers
1 Group Surf Lesson
A Surprise Day Trip
* Flights Not Included
INVESTMENT?
£2000 * WITH PAYMENT OPTIONS AVAILABLE
CONNECT WITH WHAT MATTERS MOST.
Learn how to disconnect from the noise around you and tune in to what's happening in your mind, body, and soul. We'll teach you how to:
Clear your mind with meditation
Connect with your body through yoga
Align your vision with your reality
It's time to nurture yourself like never before.
MEDITATION
Get to know yourself. Discover inner peace and mindfulness through daily guided meditations at Brave Retreats.
YOGA
Revitalize your mind, body, and soul with daily yoga sessions set amidst the beautiful Portuguese landscape.
JOURNALING
Explore your innermost thoughts and emotions through our transformative journaling and goal setting workshops.
WORKSHOPS
Unlock your full potential with our interactive workshops with special guest speakers on confidence-building, vulnerability, and self-care.
SURF TRIP
Experience the thrill of catching waves and connect with the power of the ocean with our exciting surf trip adventure.
REFLECT & RELAX
Unwind and recharge with our silent half-day retreat and evening meditation sessions, providing the perfect environment for reflection and relaxation.
The Maverick is a Surf & Yoga Resort in Lourinhã / Portugal, one hour north of Lisbon and 15 minutes south of Peniche.
The 5 luxurious and comfortable adjacent villas are located in the countryside quietness, featuring great views, a huge garden with scenic swimming pool and various chill-areas.
YOGA/MEDITATION ROOM
Sitting on top of the hill with beautiful views overlooking the valley, The Yoga shala is a place of peace, wellness and space to breathe. We are committed to offering a beautiful environment for Yoga, Meditation and Workshops - all within the tranquility and seclusion of the countryside where the Maverick is situated. The shala is ideal for our retreat.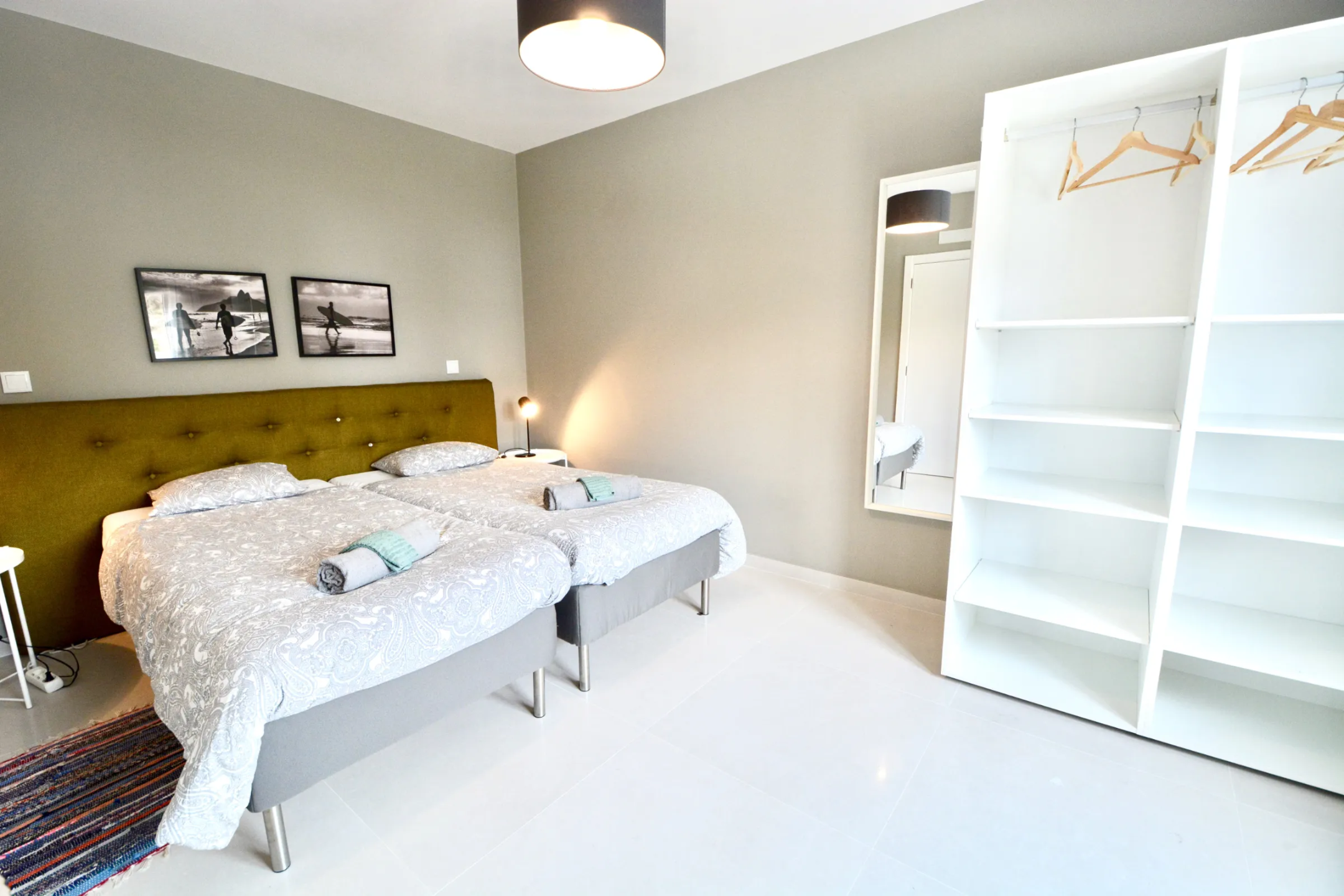 THE VILLAS
Enjoy a comfortable stay in these beautiful villas.